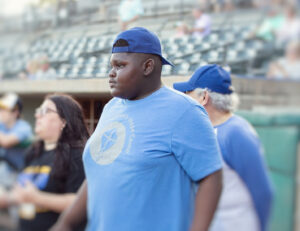 Meet Tyrell, a brave 13-year-old boy who had to face the unthinkable – the death of his beloved mother after she underwent a kidney transplant and fell ill. With his life suddenly uprooted, Tyrell found himself shuttling between his aunt's and grandmother's homes, struggling to cope with his overwhelming grief.
In the wake of this devastating loss, Tyrell and his family found solace in Stepping Stones. Before enrolling in the program, Tyrell's aunt shared his aunt shared "[He] was really sad and didn't want to talk about losing his mother. Most times when you say the word mom or momma, he starts to cry." Doing their best to keep him busy, his family provided love and support.
Tyrell was fortunate to attend a school that had a Sand Dollar Club. Finding camaraderie with seven other young students who experienced a similar kind of pain, Tyrell's spirits lifted. He spoke fondly of the club, wishing he could attend every day instead of just on Mondays.
"It's really fun & I like my Sand Dollar people, they make me feel better about my feelings."
Then in the fall, Tyrell attended Shannon's Hope Camp. Soon after, he and his family attended Community Candlelight. Both of these events offered a safe space for Tyrell & his family to which gave them a space to remember, reflect, heal & connect with each other.
Tyrell demonstrated a commitment to healthy coping & grieving by continuing to participate in Stepping Stones throughout the school year. He and his family attended several Family Workshops, and he returned to Camp again in the spring, finding comfort in the company of his peers and counselors, and enjoyment in fun camp activities, especially the bonfire with s'mores.
Reflecting on Tyrell's progress, his aunt emphasized the positive impact of Stepping Stones. "He's learned to share his feelings, openly expressing the happy memories he cherished with his mother. He has learned important coping skills, enabling him to deal with the pain of her absence." Tyrell became a source of encouragement for even his family during challenging times.
Today, Tyrell has completed all four components of the Stepping Stones Program, a testament to his resilience and the transformative power of support and understanding. Through Stepping Stones, Tyrell has found healing and hope, emerging as an inspiring example of how grief can be navigated with love and support.
Tyrell's story is a poignant reminder that every child deserves the opportunity to share their story, to find comfort in the presence of those who understand, and to heal with the support of a caring community. Bridges of Hope continues to be a beacon of light for children like Tyrell, offering them a safe space to process their emotions and discover the strength within themselves to overcome the hardest of times.