Community Rituals
Our grief needs to be seen, heard & held by others
It can be hard to make time for our grief; and it can be particularly challenging to find a safe space for sharing what we are experiencing with others. That's where rituals come in. According to renowned grief expert, Dr. Alan Wolfelt, rituals are symbolic activities that help us connect with others as we collectively express our deepest thoughts & feelings about life's most important events. And often we create or seek out rituals particularly when words seem elusive or inadequate for expressing those powerful feelings. 
In this spirit, we offer two community rituals – a candlelight ceremony in the fall & a planting event in the spring – for those who have experienced the death of a loved one. Both of our community rituals are designed to be family-friendly, welcoming of all religious & spiritual traditions, and affirming no matter when your loss may have occurred. So, we hope you'll consider joining us no matter where you find yourself in your grief journey.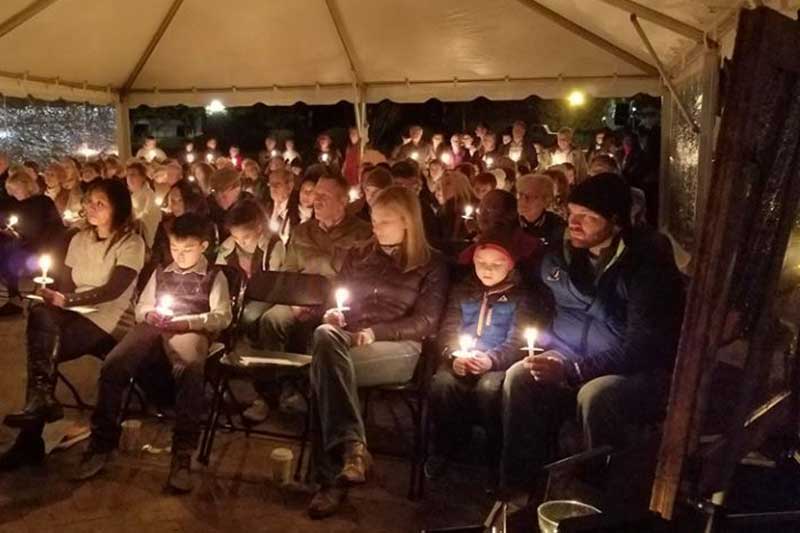 Community Candlelight
This poignant and reflective ceremony is held each fall at the Hampton Park Lagoon. It features music, a poetry reading, a brief reflection, luminaries around the lake, and a memory photo table. Warm beverages, light snacks, and a tent with seating are also provided for comfort & convenience.
Hope Blossoms
This unique & interactive gardening event is offered each spring in a scenic outdoor setting. As we decorate a pot, scoop the soil, and plant a bulb, together we reflect on how we honor the memories of our loved ones by nurturing new beginnings. The event features music & activities for the whole family. No green thumbs required, only open hearts.