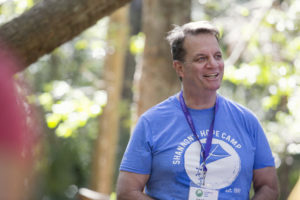 Leading the Way
An Interview with Chris Wells
How long have you been involved with Bridges' grief support programs?
I attended my first Shannon's Hope Camp as a Buddy in 1992 and with a few exceptions I have been attending camp ever since. 
What is your day job or focus?
I am the Trauma-Informed Systems Supervisor for the South Carolina Department of Mental Health.  My role is to provide training and consultation to our therapists to support them in addressing the trauma-related symptoms being experienced by their patients.
What is a favorite movie, book, musician or show (& why)?
The movie, "It's  a Wonderful Life" because the movie shows us that we can be rich in many different ways and yet the most important way is in how we are connected to others.
Why is grief support for children/teens important to you?
There is so much in life that we cannot control, but there are also things we can control.  We cannot prevent children and teenagers from experiencing tragic loss, but we can let them know that they are not alone and that although they are struggling that there is nothing wrong with them. By supporting children and teens in their difficult moments we can help them find a path of self-compassion and resilience.
What losses are you grieving in your life?
I've lost my father and my mother-in-law and I miss them both.  Yet, I have been fortunate that my first powerful loss was not until I was in my thirties.
Tell us about the impact (a story/anecdote/a-ha moment) of our grief support programs that you've seen first-hand.
Hearing the stories of traumatic experiences and loss that campers share has reinforced the importance of not just reacting to an individual's behavior, but instead, recognizing that most disruptive or "acting out" behaviors make sense given their loss & trauma.  This leads to less reacting and a more compassionate response.  Yet, I still have room to continue to grow in this regard.
What 3 words would you use to describe your experience as a facilitator (elaborate on your choices if you'd like)?
Hope   Love   Laughter
What have you learned about grief, loss, life/death through your experience?
Pain is difficult to get in touch with, but when we allow ourselves to experience the difficult emotions related to our loss we are then able to feel the love that connected us to our loved one(s) and to realize that it still connects us to them.
If you were inviting a friend to get involved, what would you tell them about our grief support programs?
By being with campers and giving them space to be sad, to have fun, make friends and be in the healing wonders of nature we not only help them learn important lessons, we learn lessons, too. The simple act of running on the beach while flying a kite in honor of a loved one teaches the child that they can laugh, have fun, and be with others while feeling connected to a family member who has died.
What do you do for fun? How do you practice self-care?
I enjoy spending time in nature with my wife, especially near the ocean.  I also like to kayak in the numerous waterways in the Charleston area. I try to focus on the present moment when the stress of life looms large and to recognize that I can choose what I focus my attention on.
If you could travel anywhere in the world (for free), where would you go & why?
Recently, I have been thinking about San Francisco.  I lived there for a year when I was in elementary school and would like to go back someday and experience the city as an adult.
Please tell us anything else about yourself or your experience with our grief support programs that you would like to share:
It's easy to turn away from sad stories and to say I couldn't bear to hear that, but by being willing to hear the sad stories these children have lived through we also see the power of hope and the healing that it brings.