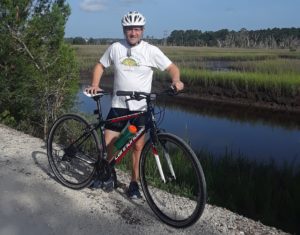 The last 18+ months have been so full of change and loss – loss of normalcy, loss of peace of mind, loss of connection from those we love.  And perhaps you've heard the warnings that the next wave will be one of grief as we begin to process more fully all that we've experienced, including the heart-breaking deaths of more than 650,000 Americans and nearly 11,000 in South Carolina. This is why I've decided to "gear up for grief support."
First, a little background. As my 50th birthday approached, I knew I wanted to mark this milestone with an achievement of some sort. I've done a few Olympic-distance triathlons in the past, so I was looking for a new challenge and experience. Bicycle Across South Carolina perfectly fits that bill. It offers a physical challenge to help me get in better shape, and since I've never done a ride of any significant distance, I really appreciate the esprit de corps of the "it's a ride not a race" approach.
Then, I also knew that I wanted to use my ride to raise awareness and funds for the nonprofit where I serve as the executive director. Bridges of Hope is a grief support community for children, teens & families and I have a deep personal connection to grief support work. Both of my parents lost a parent when they were young so I experienced first-hand how a loss can have a lasting impact even across the generations. And then, while in high school, the brother of a dear friend of mine died in a car accident. I didn't know what to do or say, so I stumbled into good grief support – I just showed up & listened. Given these experiences, I find it especially meaningful to spend my working hours helping kids & families heal after a death in the family. While their stories of loss can be heart-wrenching, it is incredibly rewarding to watch them re-blossom as they connect with kids who "get it" and are allowed to explore & express the difficult emotions they are experiencing. Yes, there are many tears, but there are even more smiles and laughter as they begin being kids again.
So, in honor of these courageous kids and their families, from October 15-17,  I'll be biking 50 miles per day for 3 consecutive days on dirt/gravel roads around the Edgefield SC area. Training is going well – a couple of rides per week with some cross-training swims sprinkled in. I'm enjoying seeing the Lowcountry up close & personal as I pedal along. And I've been overwhelmed by the generosity of so many who are helping me reach my goal to raise $6,000 for Bridges of Hope and grieving families.
Thanks for being a part of the Bridges of Hope community. And here are 3 ways you can help us "gear up for grief support:"
First, you can make referrals. If you know of a child/teen ages 7-17 who has experienced the death of a loved one, please send them our way using the Referral Form on our homepage at BridgesSC.org.
We always need volunteers. All you need is a heart for grieving kids, we'll provide you with the training you need to make a difference. Just fill out this volunteer interest form & we'll be in touch.
To learn more about Bridges of Hope, visit BridgesSC.org. To support my fundraising ride for grief support through Bicycle Across South Carolina, visit https://bit.ly/SponsorJDubsRide.
Together we live, together we grieve, together we grow!
Jonathan Wright is the Executive Director for Bridges of Hope