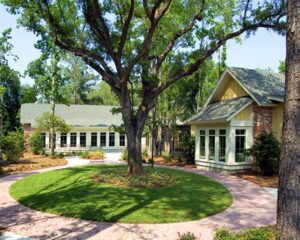 For 17 years this facility has been so much more than simple bricks & mortar; it has been the embodiment of all of us at our best; a sacred space for compassionate end-of-life care; a peaceful place where we slow down, savor each moment, & provide comfort; where we gather together, laugh, cry, share stories, & hold a hand when words no longer come. Unfortunately, given the changing healthcare & hospice landscape, there is no longer any organization that wishes to continue using the facility to provide in-patient hospice care. Given this circumstance, we are in the process of selling the building but with the hope that it will continue to serve an important – albeit slightly different – purpose in the community (more details to come as they develop.) Meanwhile, we wanted to share this timely update & extend a heartfelt invitation to visit the facility one more time if interested.
Given how many people have a strong connection to this facility – the people, the care, the art, the peaceful setting, the final memories with loved ones made there  – we are holding a Closing Ceremony on Friday, August 18 at 10:30 am. You are cordially invited to attend a short ceremony to commemorate the meaning of this special place for you, your family & our community. Please RSVP below. We look forward to seeing you on the 18th.
P.S. Be assured that hospice care is still being provided to patients & families in our community by Roper St. Francis Healthcare (operator of the facility since 2018) as well as numerous other providers in the area. This ceremony simply acknowledges the end of in-patient hospice care at this particular facility that has meant so much to so many. Please let us know if you have any questions.
P.S.S. We also want to assure you that the legacy of this building and the compassionate care you made possible continues on through Bridges of Hope as we provide grief support to children, teens & families after a death.