Our Staff

Jonathan is a seasoned and sensitive change leader with nearly 20 years of experience helping organizations build mission-critical capacity as well as empowering individuals to navigate challenging transitions. He holds an M.B.A. in Strategic Management from the University of British Columbia as well as a Master of Divinity in Pastoral Care and Counseling from Vanderbilt University. He has served as a management consultant, hospital chaplain, and in numerous non-profit leadership positions. In 2015, he left Music City (Nashville) to move to the Holy City (Charleston) where he now serves as executive director for Bridges. He is an avid Tar Heel fan, a Cub Scout Den Leader, and an outdoor enthusiast. He enjoys kayaking, camping, playing tennis, and coaching his two young sons in various sports.

Program Manager
Lauren Clarke, LISW, ACHP-SW, CT
Lauren graduated with her BSW from Arizona State University and, later, completed her graduate studies at Indiana University. With a passion for serving those impacted by death, dying, and bereavement, Lauren received her Certificate in Thanatology and Advanced Certification in Hospice and Palliative Care. Lauren's experience is well rounded with an array of opportunities that shape her skill set, including several years of hospice experience, non-profit work with bereaved parents, pediatric hospital social work, and volunteerism.  Lauren started with Bridges as a volunteer, facilitating support groups since 2014, before joining the staff as Program and Operations Manager in 2019. Lauren has a drive to ensure all those facing loss receive adequate support, and her goal is to help make a bigger impact on our community. Lauren spends her down time with her husband and son. She loves being outdoors and working on DIY projects.

Danielle received her Master's in Public and Nonprofit Management from the University of Pittsburgh and also holds a B.A. in Sociology. Danielle is most passionate about helping connect those in need to valuable community resources. Danielle has a background in teaching special education as well as working with a number of nonprofit organizations to build partnerships and strengthen communities. When not working, Danielle can be found enjoying the outdoors, practicing yoga, and playing with her labrador puppy.
Our Facilitators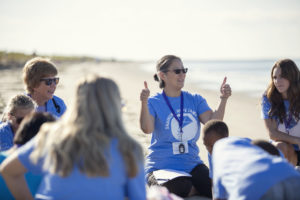 Program Partners
College of Charleston Masters of Child Life